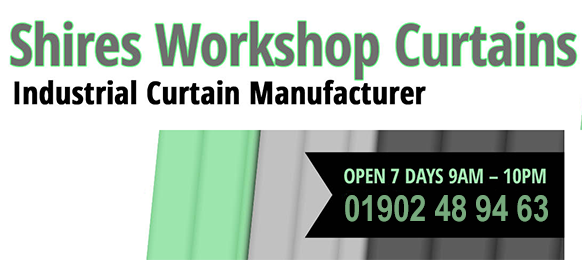 Testimonials

Over the moon with our new workshop curtains.  We should have got them years ago!


Shaw Fabrications, Telford

We have recently unpacked and setup everything you sent us, and are very pleased with the workmanship. Many thanks.


Paul Explosive Entertainments explosive-entertainments.co.uk

Thanks for the excellent service, it has been great over all the years you have been supplying us.


Ben. www.fun-4-all.co.uk

We have used Shires Workshop Curtains for 10 years now on our tool hire fleet and have found them to be a fantastic product.


Simon www.itstools.co.uk

Great and I am very satisfied with the installations and the quality of your products.


Eivind Dahl www.123hopp.no

Hi Andy, All great thanks. I'll be looking to order another 2 units soon! Thanks.


Jonathan, greenfrog-entertainments.co.uk

Let me thank you for assisting me when the couriers had a problem with my delivery, I greatly appreciate you sending your own staff down to get my delivery to me on time.


Gary Hurst D & G's dgbouncycastles.co.uk

Brilliant and extremely helpful, that is my opinion of Shires Workshop Curtains.


Tony, A Time to Party, Ireland

We are really pleased with the units they look great and a build quality to match.


Dan Murray wightcastles.co.uk

More than happy with everything - thank you very much they worked brilliantly! Will definitely keep you in mind for future work!


Rosie ITV Coronation Street

Have used Shires Workshop Curtains for years and am really pleased with the quality and service from them. I highly recommend them, they have never let me down and I will continue to buy from them for years to come.


Paul Shelton-Smith. www.bounceuk.biz